In today's digital world, the demand for fast and effective development of software, web pages and mobile applications is still growing. If your internal team is already overloaded, or you are looking for a developer for a new project, then consider partnering with us. The opportunities for outsourcing to teams in foreign countries is more feasible than ever thanks to modern technologies and the possibility to work remotely. This applies especially to Eastern European countries, where there are many talented developers. Developers in the Czech Republic are consistently ranking as some of the best in the world and many companies are now reaching from across the globe for our assistance and resources to develop projects large and small.
Czech IT in numbers
27,300 students and 5,800 graduates in IT scholastic programs (school year 2018/2019)
200,000+ IT specialists
$25 - $99 average hourly rate
$1.78 billion IT services exported
10 % IT market growth rate

Why the Czech Republic?
The Czech IT market is not only one of the best in Europe it is also one of the best in world
We demonstrate specific and successful experience in developing technically difficult projects as well as management of large multi-faceted projects
Our team is up to date with cutting edge technologies
Smooth remote work systems
Clear communication processes from project initiation through completion
Strong quality to price ratio
The Czech IT market is one of the best in world
There is no doubt that the Czech Republic ranks high among the best countries in the world for software development. It has a long-standing tradition in education, focus on technology and history of successful start-ups. It is not sheer luck that many world-leading companies such as Google, Microsoft, Oracle, IBM, CA, RedHat, Microsoft, Skype, NetSuite, Tieto and IBM have established their headquarters here for direct investment and workload outsourcing.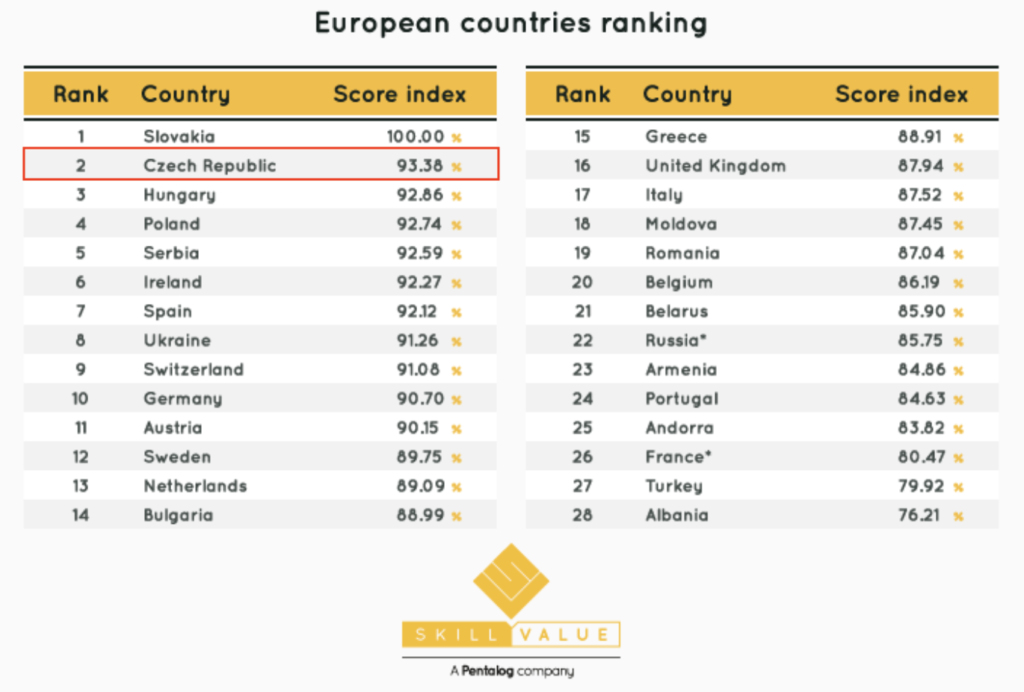 Programming skills across European countries by Skill Value ranking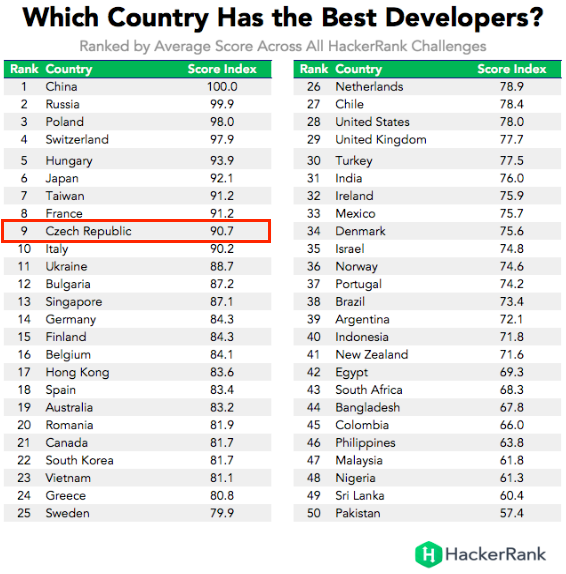 Programming skills across countries from all around the World by HackerRank ranking
Experience with technologically difficult and large projects
Local developers have access to the latest technologies and know how thanks to big technology companies and a high-level of IT in Czechia. That is why there are experienced, skilled experts in any field such as design and development of web and mobile applications, information system or other tailored made software.
This experience then, will reflect especially on how well the teams are managed. Owing to different roles such as business analyst, project manager, UI/UX designer, developer, quality assurance, marketing specialists in combination with Agile methodology, the individuals are able to work effectively and move the project quickly forward.
Use of modern technologies
Developers in the Czech republic are able to quickly adopt and to quickly state-of-the-art technologies that are trendy at the moment of developing software.
The most popular are
JavaScript
PHP
TypeScript
Python
Favourite Frameworks are then
Node.js
React
Vue.js
Angular
There is a big potential in technologies such as Machine Learning, Virtual Reality or Augmented Reality, which are also in favour of Czech developers, therefore they are able to deliver very interesting and attractive products to the market.
Easy remote work
Remote cooperation is a common thing in the Czech republic since companies here have their teams spread across the whole country as well as in foreign countries. Working from home is a standard too. Many firms have experience in working for American companies and are able to work across time zones.
No communication barrier
Language skills in information technology environment in the Czech republic is on a high level. Internationally created development teams call for communication in English on a daily basis, therefore there is absolutely no issue in communication.
Great price to performance ratio
As mentioned earlier, we have high quality software development in the Czech republic, yet still reasonably priced. The saving is between 40 - 60 % on average compared to Northern American countries or Western Europe. In other countries of Eastern Europe such as Ukraine, Belarus or Romania is the saving slightly higher, but it can't compare to either quality or to price/performance ratio of Czechia that belongs to the best ones in the World.
Why to cooperate with us
Design, build and launch digital products on mobile, web and connected platforms
300+ clients among which some are from the USA - Fortune 500
Effective project management thanks to Agile methodology
Use of modern technologies among which artificial intelligence or virtual reality
25+ matched and talented enthusiasts in technologies
10 years of experience with digital product development
Sources:
https://www.czechinvest.org/en/Key-sectors/ICT-and-Data-Centers
https://www.pentalog.com/blog/IT-ranking-world-top-developers
https://blog.hackerrank.com/which-country-would-win-in-the-programming-olympics/
https://www.czso.cz/documents/10180/61629704/06300618_b.pdf/c1ed3d68-78e6-49d8-817c-6a2e00415b46?version=1.0
https://www.n-ix.com/it-outsourcing-destinations-eastern-europe-market-report/
https://clutch.co/