Dolní Vítkovice, which is sometimes nicknamed "Ostravské Hradčany", is a world-unique industrial complex, which was declared a national cultural monument in 2002. Since 2007, the area has been gradually transformed into a unique educational, cultural and social center. The most important constructions include the extension of the Bolt Tower blast furnace, a gas tank transformed into a multifunctional Gong hall or Science and Technology Centre, where a modern entertainment science center is located. Last year, the entire complex, including Landek Park, was visited by over 1.67 million visitors from around the world. Due to the fact that the whole area is gradually growing and the number of visitors is growing, there was a request to modernize the website, which should make it easier for visitors to travel to Dolní Vítkovice.
Our cooperation with DOV began in April last year, when we were selected as the supplier of a new website in a tender. We thus faced the difficult task of how best to solve the navigation and orientation of visitors to the complex on the website due to the fragmentation of information on three separate websites for Dolní Vítkovice, Svět Techniky and Landek Park. After careful analyzes with all parties working with websites and a survey among the visitors themselves, we chose the variant where a single website covering the entire DOV complex was created, where visitors will find all the essential information in one place. After almost 10 months from the design and the beginning of the development, we proudly launched a new website representing Dolní Vítkovice.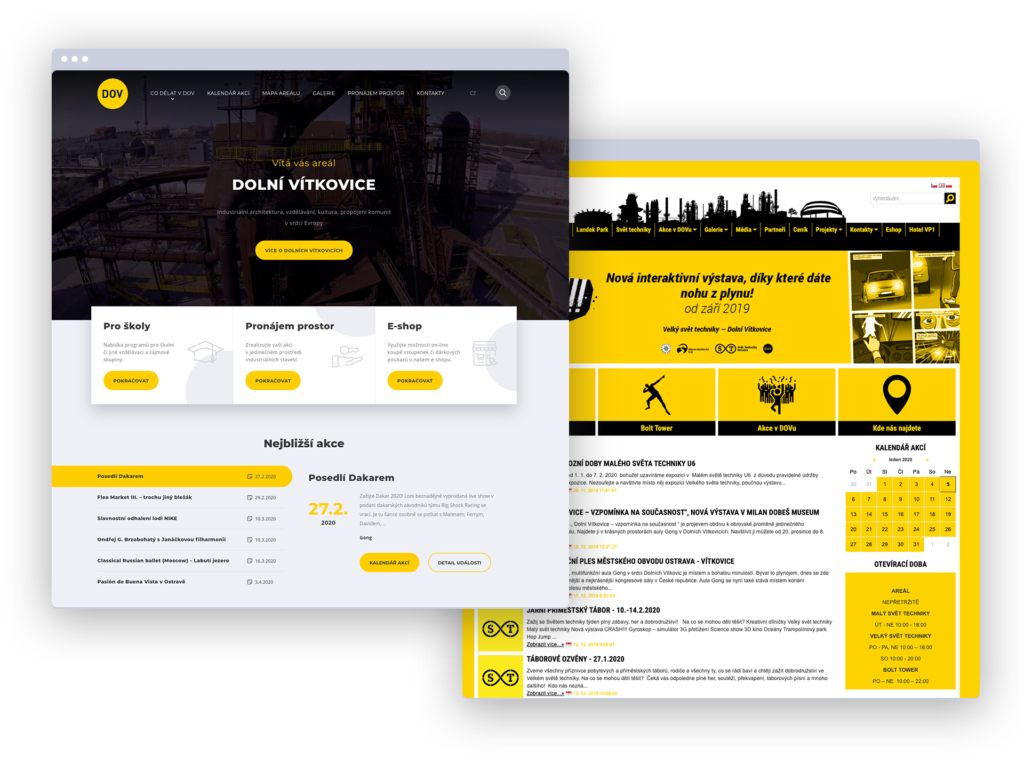 New and original website of Dolní Vítkovice
Key web features:
Unification and simplification of navigation and information architecture - instead of 3 websites, one was created, important information was highlighted and a lot of insignificant ones were omitted.
Responsive design - more than half of visitors come to the web from mobile devices.
Page load speed - an important factor that plays a big role not only in search engines.
Simplify web administration - all information on the web is administrable and can be changed at any time.
Automatic display of opening / closing status of objects.
"I believe that the new website will bring simplification in all directions, whether in its administration or in its use by visitors. We wanted to unify the presentation of objects and activities as much as possible so that users always know what information they can expect on a given page and where they are on the web. I think that it succeeded despite the fact that the individual buildings within the complexes have their own specifics and different statuses," says Jan Korpas, project manager for Moravio.
New web: www.dolnivitkovice.cz