The main requirements for the redesign of the website were its improvement of the navigation structure and orientation on the website, the administrability of all important content and, last but not least, mobile responsiveness. At the same time, it was necessary to build on the existing visual, which is used across all the group's websites.
First of all, it was necessary to solve the navigation on the web, which was solved using two menus, which was not exactly intuitive. Subsequently, we made the necessary changes in the graphics processing and then we started the migration of the website to the Wordpress content management system, which will provide the client with the required content editability. We've optimized the entire site for mobile devices and it's now fully responsive. Before handing over to the client, we thoroughly tested and fine-tuned everything. You can see the result at investor.kofola.cz and in our references.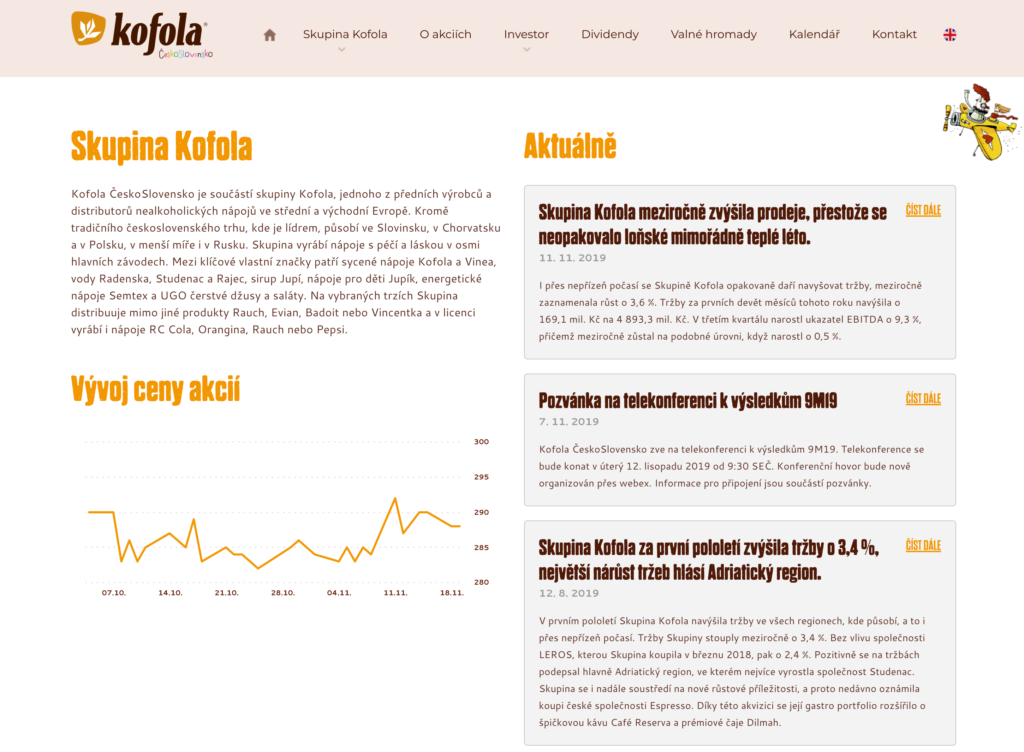 About Kofola ČeskoSlovensko
Kofola Czechoslovakia is part of the Kofola Group, one of the leading producers and distributors of soft drinks in Central and Eastern Europe. In addition to the traditional Czechoslovak market, where it is the leader, it operates in Slovenia, Croatia and Poland, and to a lesser extent in Russia. The group produces drinks with care and love in eight main plants. Key own brands include carbonated drinks Kofola and Vinea, Radenska, Studenac and Rajec waters, Jupí syrup, Jupík children's drinks, Semtex energy drinks and UGO fresh juices and salads.
Source: investor.kofola.cz